In 2011, 65% of all American companies transitioned to the cloud. Two years later, that percentage has risen slightly, due in part to the debunking of the myth that the cloud is not safe to use. However, regardless of this common misconception being repeatedly discredited, many IT managers still harbor concerns that a shift to the cloud will not offer the security or privacy necessary in business networking systems.
With proper precautions and best practices, however, the cloud can be safe, even for large corporations or companies that have sensitive data. So as the remaining 35% of American business consider the switch to beneficial cloud use, consider these safe practices to keep the cloud an easy-to-use, secure and private place for enterprising business information.
The new 128GB iPad with Retina display is now available, just as exactly as reported last week.




The new 128gb iPad is priced at $799 for the WiFi only model, and if you want to have 4G LTE connectivity, you would need to dish out $929 for the WiFi + cellular model. The WiFi only model currently ships in 1-3 business days while the WiFi + cellular model ships in 3-5 days. Although you should also expect the 128gb iPads to be available at your local retail store to avoid the long wait for your iPad.

So if you are one of those who need such a big bump on storage space for their iPads, you can now finally get your new 128gb iPad from your local retail store or get one online from the Apple Store.
Yep you read that right, Grand Theft Auto 5 will be hitting store shelves on September 17, 2013. This is a long delay from it's original launched window of spring this year, much to the dismay and anger of fans, there's really not much we can do but wait it out.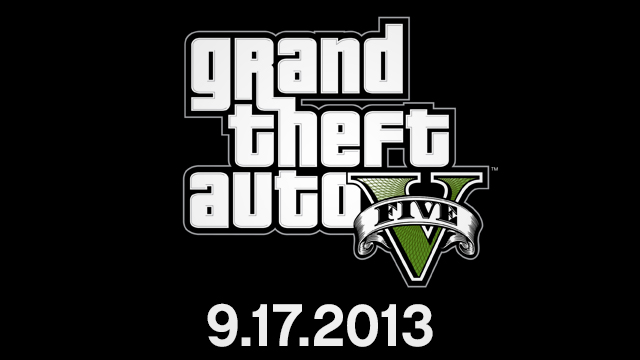 Image Courtesy of
Rockstar
Atleast Rockstar has already released a statement about GTA V's delay. debunking conspiracy theories about having an ulterior motive behind the delay.
Here's Rockstar's word about the GTA 5′s delayed launch date:
Hey all, we understand many of you guys are disappointed with this news – unfortunately sometimes such delays are necessary in all forms of entertainment, and especially in the case of a game experience as massive and complex as GTAV. However this does not give you free reign to be abusive in comments. The general rules of common courtesy, decency and behavior as listed above the Comment Box still apply here, therefore anyone continuing to post abusive comments will have their privileges suspended.

Also:

To those of you saying or seeing various conspiracy theories about there being some other ulterior motive for this delay, rest assured that they're all nonsense – literally the only reason we've delayed the release is because we want the game to be as good as it needs to be.

For those of you asking about the official box art, that will be coming out a bit later as well.

Thank you all for understanding.

Read the entire post here.
From one point of view it is rather annoying having to wait for another 4 months for Grand Theft Auto V to be released, but its one thing to know that the game creators are willing to make delays in an effort to smooth out any problems or glitches before the game is released, rather than release a faulty game just to be able to release it in an earlier timeframe. So if you ask Tech4idiots, this move by Rockstar makes total sense. (But please don't delay it anymore further)
So while we're here, lets enjoy watching these Grand Theft Auto 5 trailers in the meantime. =)
Watch the Videos
Note: This only works on on the iPhone 5 and 5th generation iPod Touch.
When you are recording a video and you want to grab a snap picture of what you are recording but you don't want to pause or stop recording, don't fret because T4I has the solution for that.


Image courtesy of
Gizmodo
Sadly, this does work not on my iPhone 4s. And also on iPads, and most probably older generation iPhones, iPods and iPads. So why post a how to about this? Because the iPhone 5 and 5th generation iPod Touch can. So it's good to know that this function is native to these iOS devices (because there's probably an App for that already).
Anyway, so here's how to snap a picture while recording video on your iPhone
1. While recording video, simply tap the small camera icon on the lower left of the screen and it will automatically grab a picture of what you are recording without having to pause or stop your video recording.
And that's it! It's that simple. Really.
Why they did not make this feature available for all iOS devices eludes me, but who knows, on the next iOS update, they could make this available for everyone.
Good guy Deank is back again with another update to his popular PS3 homebrew file manager Multiman with the Multiman 04.19.03 update.


Here are some of the updates that comes with the Multiman 4.19.03 update
* Added support for BIN+CUE PS1 games with AUDIO tracks
* Added Smooth/Full-Screen options for PS1 games in "Settings"
* Added 4 new translation labels
* Updated Showtime to 04.01.480
Download multiMAN ver 04.19.03 UPD here. (14.48MB and Includes CEX/DEX/STEALTH updates)
Download Showtime 04.01.480 [CEX].pkg here. (5.57MB)
Here's how to install Multiman 4.19.03:
1. Extract the files
2. Copy and paste the PKG file to the Root of your USB stick or External HD (use the CEX version, the DEX version is for people running DEX duh)
3. Insert your USB stick or External HD to your PS3
4. Go to Game -> Install PKG files, then look for the PKG you just downloaded and Run it.
5. Just wait for it to finish
6. And your done!
Minecraft fans do tend to overdo themselves from time to time, and this is definitely one of them. Reddit user Sam2Schwab has created an awesome replica of the entire Apple campus with amazing detail block by block. Complete with Steve Job's pictures hanging on the walls of his office.




The build includes something which he calls the 1 infinite loop, which includes a working binary computer with a functioning code-entry security system with alarm. Which makes some sense because it is reported that the project is part of his Discrete mathematics course, most probably for extra credit. Also, the creator of this awesome Apple HQ replica notes that he did not use any third-party apps for this.


This real-world replica of Apples HQ and one that is an awesome example of what Minecraft players can create in this awesome block-based building game. And I thought the shelter I built in Minecraft was already awesome and now I see this. I wonder how many hours he has put in to making this awesome Minecraft replica of Apple HQ.
Cult of Mac reports that Apple has officially announced that they are going to start selling 128gb iPads next week. The 128gb versions will be for the fourth generation iPads, for both WiFi only and cellular models. The newer 128gb iPads will be available by February 5, and the pricing model starts at $799 for the WiFi only iPad and $929 for the WiFi + Cellular model.
Probably the iOS 6.1 update just released today was in line for preparing the iOS to handle devices with bigger memory capacity.

So does this mean a 128gb iPhone is on the works? And do you really need all that space? We'll see.
iOS 6.1 is now available, you can now update your iOS device to Apple's latest firmware. While iPhone 5 users has been on iOS 6.0.2 for some time now, iPhone 4s users and other iOS devices were stuck with iOS 6.0.1, but now you can upgrade to the latest iOS which is version 6.1 and be on the same iOS with the iPhone 5. Although it's a minor update it's still always worth upgrading your iOS device to the latest iOS to be up to date with the latest firmware from Apple.
To directly update to iOS 6.1 on your iPhone, iPad, or iPod touch, go to Settings -> General -> Software Update. Then you will be prompted with installation instructions and release updates.

Here's a brief list of the updates included on iOS 6.1 as seen on the screenshot below:
LTE support for more carriers (complete list of supported carriers at www.apple.com/iphone/LTE
Purchase movie tickets through Fandango with Siri (USA only)
iTunes Match subscribers can now dowload individual songs from iCloud
New Button to reset the Advertising Identifier
So there, go ahead and update you iOS device now. =)

More Images after the jump
Sad to see one of the bigger advertising networks go down, as far as advertising networks go, adBrite was one of the best alternatives for Google Adsense in monetizing websites. The network has reported to cease operations as of Feb 1, 2013. And by looking at their website it seems not so surprising as they have stopped updating it some time as of 2011, the last post on their Press page was way back from November 2, 2011.

Here is the email T4I has received from adBrite*:
Read Full Article